Meet Marilyn Pimentel, Au.D.
Doctor of Audiology
Aud
Au
Marilyn Pimentel, Au.D.
Doctor of Audiology
Dr. Marilyn Pimentel is an Audiologist and has been practicing for over 17 years. She graduated from the University of Puerto Rico with a Bachelor of General Sciences, then continued to earn her Master's Degree in Audiology Sciences. She received her Doctoral Degree in Clinical Audiology from Salus University.
Dr. Pimentel has been working with the hard of hearing community and Deaf community in Puerto Rico since 1995 when she started to learn Sign Language and later, she became a Sign Language Interpreter. She was an Associate professor in the Health Science Department, a Bachelor in Sign Language Interpretation at the Turabo University of Puerto Rico for 5 years, and served as the Internship Supervisor.
She served for 6 years as an Audiologist consult for the Puerto Rico Newborn hearing screening program IHSIS Project (Improving Hearing Screening & Intervention Systems). She was Vice President of the Registry of Interpreters for the Deaf, Puerto Rico Chapter from 2005 to 2007, and was President of the Puerto Rico Academy of Audiology from 2009 to 2010.
She's a licensed audiologist in Texas and Puerto Rico and holds her Board Certification in Audiology. She speaks fluent Spanish and has a good knowledge of American Sign Language. Dr. Pimentel's specialties include newborn hearing screening and evaluation, audiometric testing, tinnitus assessment, and hearing aid evaluation, programming and dispensing of hearing aids. Also, she has worked with patients with cochlear implants and Bone Anchored Hearing Devices (BAHD) evaluation and programming.
Dr. Pimentel is committed not only to helping people to hear better but to counseling and supporting her patients through the process by providing quality hearing care.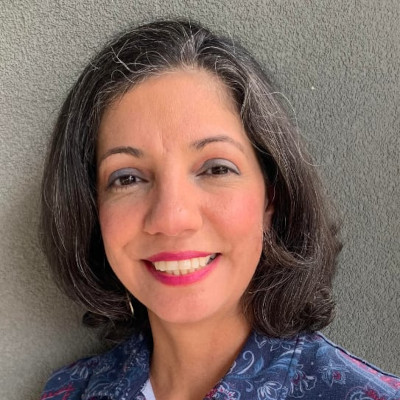 Education
Au.D., Salus University
M.S., Audiology – University of Puerto Rico
B.S. General Sciences – University of Puerto Rico
Sign language Interpretation Courses
Honors and Positions
2011 & 2013 – Recognized by Sign Language interpreter's students as Excellent Professor of the Year
2009-2010 – President of the Puerto Rico Academy of Audiology
2005-2007 – Vice President of Puerto Rico Registry of Interpreters for the Deaf
2006 – Recognized by the National Registry of Interpreters for the Deaf as outstanding Vice President of the year of the Region II.
2003 – Master Degree Honor Student
Associations
Active member of the Puerto Rico Academy of Audiology since 2002
Fellow member of the American Academy of Audiology since 2008
Other Certifications
Board Certified in Audiology
Publications
2012 – Free health magazine: Punto al Asunto. Title: Otitis media y pérdida de Audición.
2010 – Free weekly newspaper: El Expresso. Title: Audición digital,…….MEJOR COMUNICACION
2009 – Newspaper: El Nuevo Dia. Title: Los problemas de audición en niños de edad presscolar y escolar.
2008 – Free weekly newspaper: El Todo. Title: Embarazo, Infancia y audición